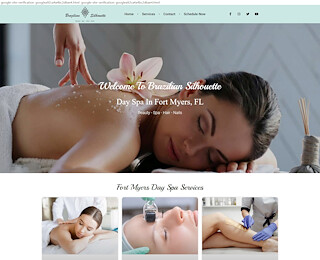 Most of us think facials are an unnecessary treatment for the rich person who does not know what else to add to their beauty treatments. The truth about facials is their benefits lie in the details. It's the finer points like their ability to regenerate collagen, reduce wrinkles and lift the skin that make them worthwhile. A regular everyday routine will keep your skin fresh and new, but deep pore cleansing eliminates the deepest junk to keep off congestion and inflammation.
A list of all our Fort Myers facials treatments
Our facial treatments in Fort Myers offer many different benefits for all different skin types and conditions. Here is a list of what we offer.
Ultrasonic facial
This non-invasive ultrasound treatment aims to generate younger skin by focusing ultrasound frequencies on target areas. These high-intensity treatments are beneficial for many different skin types and can also be used for kidney stones, some cancer types, and neurological complications. The ultrasonic facelift has the following benefits:
Stimulate blood flow
Exfoliate dead cells
Eliminate acne
Tighten the skin
Eliminate dark under-eye circles
Fade dark spots
Eliminate wrinkles and fine lines
Powerderm
The powerderm Fort Myers facial treatment replaces and renews the cellular structure by stimulating the flow of nutrients, oxygen hormones, hyaluronic acids, and vitamins. The result will be increased elastin and collagen, which give the following external effects:
Reduce wrinkles
Resurface the skin by removing dead cells
Lift the face by eliminating the dull appearance for a fresher skin
Reduce acne by reducing metabolic waste, bacteria, and viruses
Plasma tightening
The plasma fibroblast treatment does what it says – tighten the skin. Unlike the many creams and DIY tools that promise to tighten the skin, this treatment is the most effective and has speedy results. Plasma tightening encourages the body's system to eliminate toxins by stimulating the natural repair system. We infuse the skin with plasma using laser incisions and recommend at least three to four treatments for you to realize the full benefits, which include:
Eradicate wrinkles and fine lines
Control skin damage from aging and other factors to give plumper skin
Reduce the pore size
Improve blood circulation
Microdermabrasion
Microdermabrasion is easily the most popular treatment to remove dull skin and reveal younger and fresher skin. We do this using a minimally invasive procedure to purge dead cells and encourage skin restoration. The general result will include:
Reducing fine lines and wrinkles
Improve sun damage
Reduce enlarged pores
Reduce stretch marks
Reduce sun or age spots
Improve skin discoloration
Chemipeel
A chemical peel is a potent skin treatment. Generally, they classify into different categories according to their ingredients. Each condition deserves a different chemical peel, meaning you will need a different one for wrinkles, blemishes, or pigmentation. These chemical peel ingredients include fruit acid, lactic acid, glycolic acid, or AHA, among a few others. The top benefits of a chemipeel include:
Treating acne
Minimize pores
Erase wrinkles and fine lines
The above are a few of everything you can get, including botox in Fort Myers. Do you have an idea of what kind of treatment you need? Please request an appointment today for our Fort Myers medical spa to examine your skin and recommend the best one for you to achieve the glow of a lifetime.